Happy landing! The Radisson Blu Hotel at Hamburg Airport is now open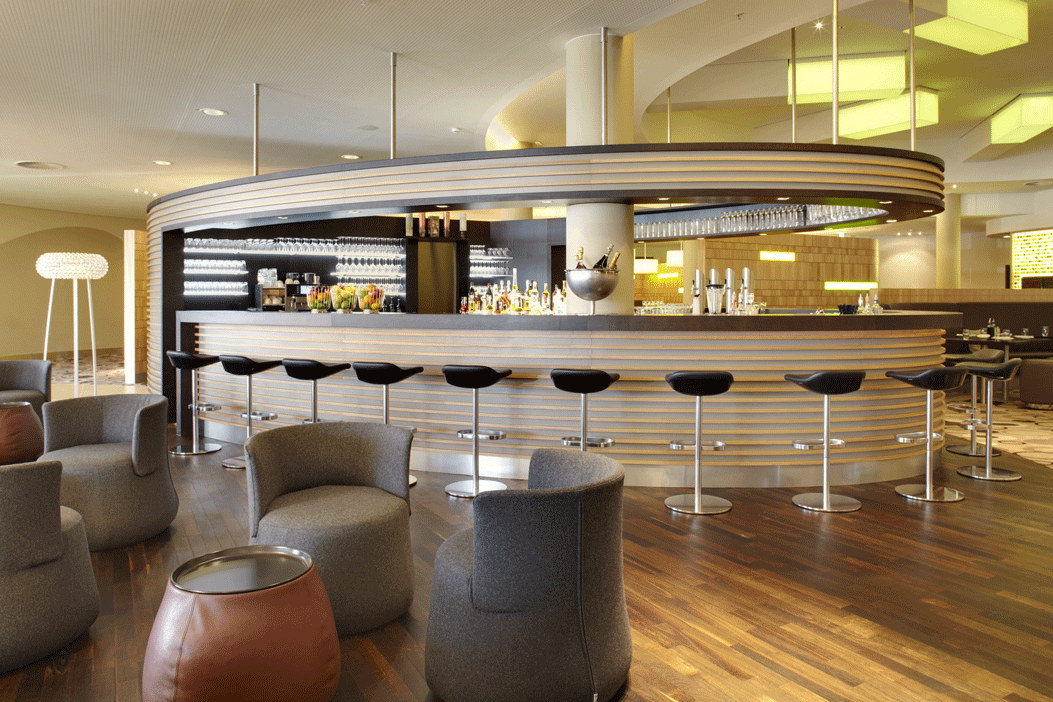 Click here to download this photo.
A new attraction now graces Hamburg Airport. The new Radisson Blu Hotel, Hamburg Airport has now opened directly opposite terminals 1 & 2 and the Airport Plaza. The top quality and full service hotel doesn't just have an impressive location (it is connected with the arrivals and departures areas by a footbridge) - the modern design of its 266 rooms and suites, the extensive 1,000 square metres of event space offered and the enthusiastic service provided by its staff on the basis of the Radisson Blu "Yes I Can!" philosophy all make the hotel led by General Manager Holger Herrmann really unique.
Well rounded: extraordinary architecture and contemporary design
The circular layout of the hotel, which was constructed between February 2008 and October 2009, fascinates guests when they first see it. This layout also means that each of the 266 rooms and suites has an individual character. The rooms have been designed in two different styles by Swedish interior designer Christian Lundwall: "Urban" is characterised by upbeat patterns and dark wood, which combine to provide a warm and relaxed atmosphere. "Ocean" uses light tones and delicate shapes to provide a dynamic and inspiring ambience that is full of life. A common feature of all rooms is the free wireless and cable-based Internet access, individual air conditioning systems and an LCD television. The rooms are also all equipped with two telephones and fax, modem and MP3 player connections, as well as having a laptop computer sized safe, an ironing board and an iron. The bathrooms have beauty care products from the French cosmetics brand Anne Sémonin. The business class rooms and the luxurious and spacious suites also indulge guests with a Nespresso-coffee machine, bathrobes and slippers, free film channels and a choice of daily newspaper. The breakfast buffet is also included in the room price for these categories. 
Successful mix of designs: modern and timeless public areas
The award winning interior designers from the Hamburg-based agency JOI-Design have selected an attractive combination of forms for the lobby and other public areas by integrating circular and oval shapes which counterbalance each other. For example, the oval bar and buffet contrast with the circular floor plan of the lobby, and eye-catching ovals adorn the carpets and walls. At the same time, carefully selected and primarily local materials provide an atmosphere of hospitality and comfort – JOI-Design have, for example, chosen dark stained oak and contrasting elm, and have cleverly integrated frosted glass and dark brown leather, rounding off a very attractive design with sandstone-look ceramic tiles.
La dolce vita: Italian specialities at "Filini"
The "Filini" restaurant and bar concept, which has won international awards, allows the Radisson Blu Hotel, Hamburg Airport to put its guests in a holiday mood. "Filini" is 100% Italian and provides a modern, innovative and stylish place to eat and drink where design and service, menus and wine, and music and lighting are perfectly matched.  A modern interpretation is given to traditional Italian cuisine in an unashamedly Mediterranean setting. The finest ingredients from various Italian regions are used and flavour and aroma are top priorities.  "Filini" also demonstrates that exquisite cooking does not have to be expensive – for example the menu lists beef carpaccio with rocket salad and Parmesan for just €9.50, fried king prawns with tomato, garlic and olive oil can be enjoyed for €16.50 and crispy pizzas fresh from the oven cost between €7.50 and €9. The food on offer is ideally complemented by fine Italian wines from famous wine regions such as Tuscany, Piedmont and Sicily. The culinary delights are complemented by the "Filini" bar's excellent selection of beverages and Mediterranean snacks.
A place for relaxed and efficient meetings: 1,000 square metres of event space
Whether being used for confidential negotiations, board meetings or banquets, the Radisson Blu Hotel, Hamburg Airport is ideal for business customers due to its 1,000 square metres of event and meeting space. There are 15 multi-functional event rooms situated on the ground and first floors, all of which have natural light, independent air conditioning systems and ultra-modern conference technology. Some of these rooms can also be variously combined to form larger facilities. The largest room offers 310 square metres and provides seating for up to 300 people. All delegates at conferences and meetings (including day guests without a room reservation) can also benefit from the free Internet access throughout the conference area. Furthermore, the well known service provider KFP, which has been awarded the Business Diamond Award 2009, provides comprehensive and optimal support for all events alongside the hotel's meetings & events team.
Get fit for Hamburg: in the PACE Fitness Club
If you wish to work out or relax after a flight or before a meeting, the 130 square metre PACE Fitness Club is the place to visit. It is situated on the fifth floor of the hotel and is equipped with modern gym equipment, a sauna, a steam room and a relaxation zone. If the weather is good, the best place to relax is the roof terrace,
which offers an impressive view of the airport and also, if conditions are clear, the Port of Hamburg.
And while we are on the subject of good views, the sights and attractions of Hamburg can all be reached from the Radisson Blu Hotel, Hamburg Airport in a matter of minutes. The S1 suburban train leaves every 10 minutes and brings you quickly to the city centre, which is located 9 km from the hotel and features historic attractions such as the Jungfernstieg shopping street, the Speicherstadt (warehouse city) and the Fischmarkt (fish market) as well as new ones such as the Hafen City (port city) development. 
Radisson Blu Hotels & Resorts (formerly Radisson SAS Hotels & Resorts) is part of the Rezidor Hotel Group and provides top quality service as well as a modern hotel experience in the upscale market segment. Radisson Blu has won numerous awards as the best hotel chain and is particularly well known for its "Yes I Can!" approach to service and its "100% guest satisfaction guarantee". Radisson Blu was the first international chain to introduce free broadband Internet access in all its hotels, in September 2005.
The Radisson Blu portfolio currently includes more than 230 hotels in operation or under construction, with more than 54,000 rooms, in Europe, the Middle East and Africa.
Further information is available at www.radissonblu.com
Press contacts:
Kerstin Schmidt
Director of Sales & Marketing                                          
Radisson Blu Hotel, Hamburg Airport
Germany
T: +49 (0)40 300 300 3610
kerstin.schmidt@radissonblu.com

Weibel Communication AG
Katja Grauwiler
Zelgmatt 69
CH – 8132 Egg
Switzerland
T: +41 44 986 1020
info@weibelcom.com