Kurt Ritter receives Lifetime Award of Travel Industry Club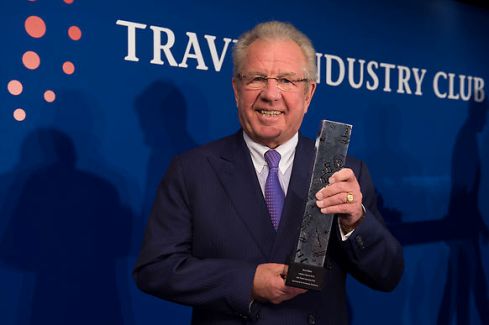 Kurt Ritter, former President & CEO of The Rezidor Hotel Group, has received the Lifetime Award 2013 of Germany's Travel Industry Club. "Kurt Ritter is an internationally acclaimed hotelier, and was the driving force behind Rezidor's success. He has led the company for more than two decades which is a unique achievement. His charismatic, engaged and responsible style of leadership has written history", commented Fritz Pütz, Vice President of Travel Industry Club.
Swiss-born Kurt Ritter was Rezidor's President & CEO from 1989 to 2012 and therefore one of the longest serving CEOs of the hospitality industry. Under his leadership, Rezidor grew from a small regional group to a truly global player – featuring four clearly defined brands and currently more than 430 hotels with 95,000 rooms in 70 countries across Europe, the Middle East and Africa. In January 2012 Kurt Ritter co-launched the Carlson Rezidor Hotel Group, one of the ten largest hotel groups worldwide. He received numerous prestigious awards like "Corporate Hotelier of the World 2002", "International Hotel Investment Forum Lifetime Achievement Award", and "MKG Hospitality Lifetime Achievement Award". Kurt Ritter holds two honorary doctorates and was introduced to the legendary "British Travel Hall of Fame" in 2012.
"I feel honoured to receive the Lifetime Award of Travel Industry Club, and want to thank Rezidor's outstanding team that has so strongly supported me over all these years. It is the team that makes Rezidor – and that made me the man and leader I am", said Kurt Ritter. He will not completely leave "his" company but serve in 2013 as a senior strategic advisor to Carlson's President & CEO Trudy Rautio.
For further information, please contact
Christiane Reiter, Senior Director Corporate Communication
Christiane.Reiter@Rezidor.com
Renu Snehi, Senior Director Corporate Communication
Renu.Snehi@Rezidor.com
About The Rezidor Hotel Group
The Rezidor Hotel Group
is one of the fastest growing hotel companies in the world and a member of the Carlson Rezidor Hotel Group. The group features a portfolio of more than 430 hotels in operation and under development with 95,000 rooms in 70 countries.Rezidor operates the brands Radisson Blu and Park Inn by Radisson in Europe, Middle East and Africa, along with the Club Carlson loyalty programme for frequent hotel guests. Under a worldwide licence agreement with the iconic Italian fashion house Missoni, Rezidor operates and develops the lifestyle brand Hotel Missoni, and following a Strategic Alliance Agreement with Regent Hotels & Resorts in September 2012, Rezidor also develops and operates new Regent hotels in EMEA.In November 2006, Rezidor was listed on the Stockholm Stock Exchange. Carlson, a privately held, global hospitality and travel company, based in Minneapolis (USA), is the majority shareholder.The corporate office of the Rezidor Hotel Group is based in Brussels, Belgium.For more information visit
www.rezidor.com